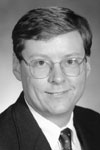 Tom Field is a professor in the department of animal sciences at Colorado State University (CSU), where he is responsible for the seedstock cattle breeding program of the university teaching herd, which is composed of Angus and Hereford cattle. Field coordinates the Seedstock Merchandising Team at CSU and developed the standard operating procedures and Quality Assurance Manual for the university livestock center. A native of Colorado, Field earned his bachelor's, master's and doctorate degrees at CSU. He serves as a consultant to numerous beef organizations and has given invited presentations across the U.S. and internationally. Field has been recognized numerous times for his excellence in teaching, including the Distinguished Teaching Award from the American Society of Animal Science.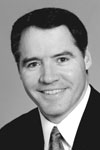 Randy Blach, executive vice president of Cattle-Fax since 2001, has experience as an analyst and director of market analysis with Cattle-Fax since 1981. Cattle-Fax, a member-owned organization whose objective is to help member cattlemen make more profitable marketing and management decisions, supplies timely market information to its members in all segments of cattle production and feeding throughout the U.S. A graduate of CSU, Blach was raised on a family operation near Yuma, Colo., and remains active in his family's ranching business, which includes cow-calf, stocker and finishing cattle. He also owns and operates High Country Steaks, which markets high-quality, aged steaks across the U.S.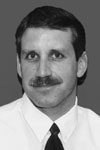 Tom Brink is vice president of cattle ownership and risk management for Five Rivers Ranch Cattle Feeding. He had the same position at ContiBeef prior to its joint venture with Smithfield Foods this spring. Before the merger, ContiBeef fed nearly 900,000 cattle per year, making it the second-largest cattle-feeding operation. Since the merger, Five Rivers has become the largest cattle feeder in the world, with 10 feedlots and a one-time capacity of 811,000 head of cattle. A Kansas native, Brink holds a bachelor's and two master's degrees from Kansas State University. He is a past executive director of the American Gelbvieh Association and also worked at Cattle-Fax as a research analyst and market research director.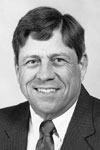 Jim Gosey is an Extension beef cattle specialist and professor in the animal science department at the University of Nebraska-Lincoln (UNL). He joined the university in 1971 as a beef cattle Extension specialist, working in the area of beef cattle breeding, beef crossbreeding, bull selection, cow-calf management, beef cow efficiency and beef cattle production systems. Gosey has taught the "Beef Cattle Production" and "Cow/Calf Management" courses since 1978. He has instructed the "Beef Cattle Merchandising" course since 1994, in addition to managing the UNL teaching herds, which include Angus and composite populations. He received his bachelor's, master's and doctorate degrees from Oklahoma State University, New Mexico State University and UNL, respectively.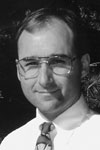 Don Schiefelbein is a partner in his family's diversified farming operation near Kimball, Minn. Schiefelbein Farms includes 700 registered Angus cows, 4,000 acres of farm ground and 3,000-5,000 calves fed out annually. Prior to returning to the family operation, he served as the director of commercial marketing for the American Gelbvieh Association for three years before being named its executive director. He also gained breed association experience at the North American Limousin Foundation, working as director of breed activities and coordinating the junior programs. He graduated with honors from Texas A&M University and was an Extension meat specialist and certified ultrasound technician for Texas A&M's Livestock and Carcass Evaluation Service.