Prepare for the Future

Randy Blach, Cattle-Fax
Today, the cow-calf and seedstock industry is enjoying its peak in the cattle cycle, but producers should look toward the future to maintain profitability, said Randy Blach, Cattle-Fax executive vice president, during the 2005 National Angus Conference in Kansas City, Mo.
Click here to listen to the presentation.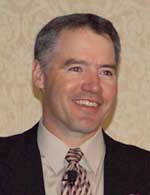 We have to get our export markets back, Cattle-Fax's Randy Blach told participants of the National Angus Conference.

Blach told conference participants Sept. 28 that he foresees continued profits for the seedstock sector within the next year.

"In the next 12 months, we're probably going to see bull prices at as high a level as we're going to see in the next five, six or seven years," he noted.

However, Blach cautioned the group that such an environment will change — and global competitiveness, fluctuation in the national cow herd and the closure of U.S. export markets will contribute to that change.

"You think we have competition now, you wait and look at it five years from now," he said, noting the steady expansion of processing plants and cattle numbers in competing countries. "We've awoken the sleeping giant around the world by being locked out of these export markets the last two years."

The closure of the U.S. border to Canadian cattle and beef imports also added to that competition. In fact, the U.S. fed cattle packing industry was built to utilize fed cattle out of Canada, Blach said. "We shut the spigot off on that," he remarked. "Canada was basically a raw material provider to the U.S. for 15 years. We were adding value to it and benefiting from that as an industry." Now the northern neighbor will serve as stiff competition in vying for key export markets like South Korea, Japan and Taiwan.

As producers continue to expand their herds and as the U.S. regains its supply, the most critical thing for the industry in the short term will be to gain access back to export markets, Blach said. "If we don't, by late next summer, fall or the year after, we could have more supply than we can absorb in our marketplace at a price that we have become used to."

In addition to globalization of the marketplace, Blach foresees consolidation of retail and foodservice sectors, an increase in capital requirements, more coordinated production systems and an increase in product branding and differentiation.

With all the foreseen change in the marketplace, Blach said it's critical the industry maintain demand levels. Beef demand has increased 25% within the industry during the past several years, but, he said producers need to think about what they can do as individuals to increase demand.

"As individual producers, you have to put on your hat and say, 'I better take care of demand, because without demand, I don't have anything."


— by Crystal Albers, associate editor, Angus Productions Inc.
© Copyright 2005 Angus Productions Inc.


Editor's Note: This article was written under contract or by staff of Angus Productions Inc. (API), which claims copyright to this article. It may not be published or distributed without the express permission of Angus Productions Inc. To request reprint permission and guidelines, contact Shauna Rose Hermel, editor, at (816) 383-5270 or shermel@angusjournal.com.