The Future of Angus Beef

Tom Brink, Five Rivers Ranch

Angus dominance will continue, but it may take a different form in the future.

Click here to view PowerPoint presentation (1.2 MB).
Click here to listen to the presentation.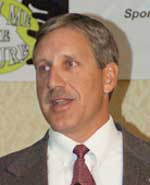 Tom Brink, vice president of cattle ownership and risk management for Five Rivers Ranch Cattle Feeding, provided a look at how Angus cattle and Angus beef could fit into the beef industry of the future.

While we can't always predict the future, we know it won't be the same, said Tom Brink, vice president of cattle ownership and risk management for Five Rivers Cattle Feeding. During the 2005 National Angus Conference & Tour, Brink shared insights as to what Angus producers can expect to see more of, as well as what they will see less of, in the future.

He explained that while many things might change, the basic structure of the cattle industry will stay the same: founded on a base of low costs and production efficiency. "There are some basic production principles that are critical, and they won't go away," he noted. However, he predicted that much more emphasis will be placed on adding value to products and differentiating products from one another.

Brink said that Angus producers will see more of Angus popularity in the marketplace. While Certified Angus Beef® (CAB®) was the "earthquake that revolutionized the beef business," many packers and distributors have their own Angus brands. "Angus beef is everywhere," he said. "It's the most recognized name in branded beef."

He noted some important areas of growth and differentiation that will happen in the future, including a renewed emphasis on hybrid Angus cattle. "No success goes unchallenged," Brink said. Other breeds have decided they need to get a piece of the action. He predicted more Angus beef from hybrid Angus bulls mated to Angus-based cows. He also predicted that by the year 2010, there will be 100,000 registered Angus-based hybrids each year.

Brink explained that Angus producers will see less opportunity to produce cattle from unidentified backgrounds; less potential to profit from cattle not eligible for branded beef programs; less room for seedstock and commercial cattle without any Angus influence; and less distinction between breeds, as Angus will form the common link.

"Angus genetics are going to be continually recognized as being the main ingredient into the commercial cattle sector," he said. However, they won't be the only ingredient. In a future where he thinks Angus purebred cattle and Angus hybrids will sell side by side, he said, "Angus genetics are going to continue to dominate the industry" — but in nontraditional forms.


— by Brooke Byrd, assistant editor, Angus Productions Inc.
© Copyright 2005 Angus Productions Inc.


Editor's Note: This article was written under contract or by staff of Angus Productions Inc. (API), which claims copyright to this article. It may not be published or distributed without the express permission of Angus Productions Inc. To request reprint permission and guidelines, contact Shauna Rose Hermel, editor, at (816) 383-5270 or shermel@angusjournal.com.