The Future is Here

Jim Gosey, University of Nebraska
Click here to view PowerPoint presentation (10.9 MB).
Click here to listen to the presentation.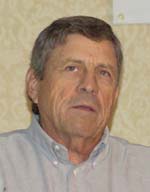 University of Nebraska beef cattle specialist Jim Gosey urged attendees to take what they know, put it on the table, and look at what they can do differently.


Jim Gosey, University of Nebraska, spoke at the 2005 National Angus Conference and Tour about the challenges and opportunities available to Angus producers to help them succeed in the future.

Gosey discussed the advantages of crossbred cattle. "Crossbred cows have 25% greater lifetime productivity than do their straightbred counterparts," he said. In his research with the University of Nebraska, he has found that British breeds crossed with Continental breeds do a better job of meeting carcass targets than straightbred cattle or other crossbreds.

The point of crossbred cattle, Gosey stated, was to obtain cattle that would be the most responsive to change. While in a low-stress environment a purebred herd might perform on par with a crossbred herd, in difficult regions or environments crossbred cattle are better able to adapt to their circumstances, he said.

In the future, Gosey predicted that the perfect commercial herd would be half to three-fourths Angus. Angus, he said, will be "the source of genetics for high taste." However, he advised against focusing solely on marbling, as tenderness and flavor also contribute to taste.

Gosey emphasized the need for genetic estimates of fertility and continuing the effort to stabilize cow maintenance needs. Angus seedstock producers, he noted, "must enhance commercial customer profitability." Their job can't be to just sell bulls.

Gosey predicted a few obstacles and profit drivers for the future, including fertility, inventory and payweight; land investment per cow and appreciating land prices; environmental stewardship and the challenges posed by increasing government regulations; the number of cows per person and the need for low-stress, low-labor cattle; choice of cattle season to avoid having to buy as many feedstuffs; going beyond commodity marketing; and increasing the role of beef in a healthy lifestyle.

He closed by emphasizing that Angus producers must use their knowledge and creativity to get beyond the present and get ready to face the future. Instead of assuming you know more than your customer or not listening to him, Gosey noted that Angus producers must be more proactive in helping commercial customers be successful.


— by Brooke Byrd, assistant editor, Angus Productions Inc.
© Copyright 2005 Angus Productions Inc.


Editor's Note: This article was written under contract or by staff of Angus Productions Inc. (API), which claims copyright to this article. It may not be published or distributed without the express permission of Angus Productions Inc. To request reprint permission and guidelines, contact Shauna Rose Hermel, editor, at (816) 383-5270 or shermel@angusjournal.com.