American Angus Association, Saint Joseph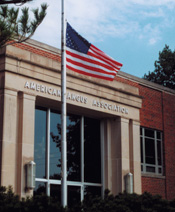 The 2005 National Angus Tour will begin with a stop at 3201 Frederick Ave. in Saint Joseph, Mo. — home of the American Angus Association, Angus Productions Inc. (API) and the Angus Foundation. The Association headquarters was moved to its present location and a brand new structure in 1956. Since that time, the Association purchased the Angus Journal and built its present building in 1998.


Association employees look forward to members stopping by the office for a visit. Employees process registrations, transfers, memberships and performance measurements five days a week. The staff also offers customer support for Angus Information Management Software (AIMS) users and members who use AAA Login. Other departments focus efforts on planning events for adult and junior members, communications, and providing programs for commercial producers who use Angus genetics.
API is the home of the Angus Journal, Angus Beef Bulletin, Web Marketing Department and Special Services. The Angus Journal is the Association's flagship publication and is published monthly. The Angus Beef Bulletin, sent to more than 80,000 commercial producers, is published six times a year.


The Angus Foundation, started in 1980, is a 501(c)(3) not-for-profit affiliate of the Association. With its focus on education, youth and research, the Foundation provides scholarships to junior Angus members and provides funding for several educational projects throughout the year.


During your stop at the Association, you'll be able to meet the people you've worked with over the phone or through correspondence. You'll also see the museum that highlights the role of the Association and its entities and take in many of Frank Champion Murphy's original artworks.