Circle A North, Huntsville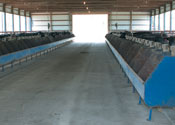 The first stop on Thursday will be near Huntsville at Circle A North. The Dave Gust family owns Circle A Angus Ranch. With its headquarters in Iberia, Mo., the ranch started in 1991 with approximately 140 females on 640 acres. Today the operation includes 30,000 acres spread across four locations in Missouri and Iowa. The registered herd includes about 300 head, with an additional 400 embryo transfer (ET) calves born each year. Each Missouri location is also home to about 2,000 commercial females. The Iowa unit is home to about 2,100 heifers being developed and artificially inseminated (AI) for replacements and female sales.


Circle A has taken progressive strides in using genetic selection to produce high-performing cattle. Its registered and commercial herds work together to discover and develop genetics that will have a positive influence on consumer demand in the beef industry.


With a focus on fertility, efficiency and carcass traits, Circle A established its Angus Sire Alliance in 1995. During the tour you will see the ranch's feed efficiency test facilities and learn more about its selection tools.


The operation uses several marketing outlets, including three sales each year for its registered cattle and customer cattle — a female production sale in September, a bull sale in March and a customer appreciation sale in May. The ranch also conducts Circle A Influence Feeder Calf Sales and consigns to the Show-Me Select Replacement Heifer Program sale and the Southwest Commercial Heifer Sale, as well as selling private treaty.


Circle A is active in the Missouri Cattlemen's Association (MCA) and the National Cattlemen's Beef Association (NCBA). In 2002 the ranch was named Beef Improvement Federation (BIF) Seedstock Producer of the Year. The National Cattlemen's Foundation honored Circle A in 2005 as a regional Vision Award winner.


To learn more about Circle A, go to www.circlearanch.com.