Sydenstricker Genetics, Mexico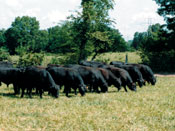 Ralph Sydenstricker acquired his first two registered Angus cows and calves in 1952 on a trade for a Super C Farmall tractor. He became an avid Angus enthusiast and supporter of the Missouri and American Angus associations. His son Eddie became involved with Angus cattle through 4-H and FFA and served as the first president of the Missouri Junior Angus Association. Years later Eddie served as a director on the American Angus Association Board. Today Sydenstricker Genetics manager Ben Eggers serves as Association vice president.


The Sydenstricker name is parallel to leadership in many organizations, and the Sydenstrickers have been leaders in raising quality Angus bulls and marketing their bulls' semen. They published their first Herd Sire Directory in 1993 and continued to publish it until 2003, when ORIgen published its first directory. As a founding partner in ORIgen, Sydenstricker Genetics continues to prove and market herd sires that are on the cutting edge of the beef industry. You will see the headquarters of the Sydenstricker herd and the sale facilities while enjoying true Missouri hospitality.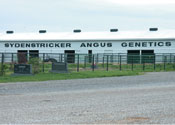 This year will mark their 27th annual production sale, hosted every year the Saturday before Thanksgiving. All fall yearlings, January bull calves and a cross section of females are sold through the sale. They also consign some top females to the Missouri Angus Futurity and market about 80 bulls in the spring.
Certified Angus Beef LLC (CAB) recognized Sydenstricker Genetics with its Commitment to Excellence Award in 1997. In 2001 it was named BIF Seedstock Producer of the Year. For more information about Sydenstricker Genetics, go to www.sydgen.com.