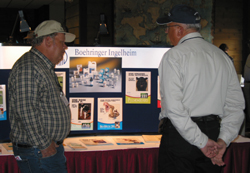 Boehringer Ingelheim Vetmedica, Inc. (BI) was the major sponsor of the 2003 National Angus Conference and Tour. During the conference participants could learn more about BI's products by visiting their booth in the hotel lobby.

More than 450 Angus breeders and commercial producers from more than 30 states, Canada and Denmark, visited the beautiful cow country of North Dakota for the 2003 National Angus Conference and Tour, September 24-27. "Take Initiative" was the theme for the event, which included a conference program featuring cutting-edge beef industry speakers. For highlights of the presentation, including a synopsis, PowerPoint presentations and audio archives, visit the "Conference Schedule " Page and click on the speaker's name.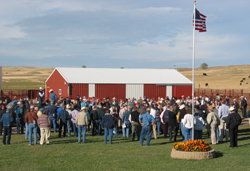 Tour attendees enjoyed two days touring North Dakota, visiting Angus operations and learning about North Dakota agriculture and history.
Following the conference, participants enjoyed a two-day tour co-hosted by the North Dakota Angus Association. The event was a showcase of family-owned Angus operations throughout the state. For highlights of the tour, visit the "Tour Schedule" page and click on farm name.