The Business Side of Beef
CAB assistant director of business development gives attendees an overview of the beef industry and the opportunities available.
ALBANY, N.Y. (Aug. 28, 2013) — "A lot of things have changed in a short number of years," said David O'Diam as he provided an overview of the beef industry for National Angus Conference participants Aug. 28 in Albany, N.Y. O'Diam is assistant director of business development for Certified Angus Beef LLC (CAB). In his role he works with producers of Certified Angus Beef® (CAB®) brand products and helps to link availability with end-user demand, as well as forecasts market conditions and provides weekly and monthly updates to internal sales staff.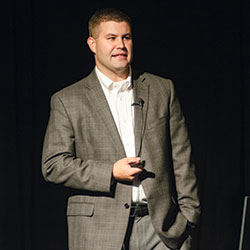 As a result of the decreased inventory, total slaughter has been down — by 1 million head in 2012, and by about half a million head in 2013, David O'Diam reported.
O'Diam began his remarks by offering what he called a "50,000-foot view of the industry." He noted, "Not that long ago live cattle were selling below $90 per hundredweight (cwt.). Now, they're at $126 per hundredweight."
Additionally, he reported, U.S. cattle numbers have shown a sizeable decrease in inventory during the last several years, with total cattle numbers down 3.7% compared to 2012. O'Diam said it looks like cattle numbers will remain flat at best in 2014, with some possible rebuilding of cow herds after that, depending on drought conditions.
As a result of the decreased inventory, total slaughter has also been down – by 1 million head in 2012, and about half a million head in 2013, O'Diam reported. And, the lower cattle numbers have had a tremendous impact to the feeding and packing sectors, he noted.
In a nutshell, O'Diam said, "There are less cows, and they're more expensive."
Despite fewer numbers, O'Diam shared that CAB has had record acceptance rates (24.4%) this year, and is up over 6% in pounds sold. He added that CAB has seen a tremendous amount of growth in all segments of retail (2.8%), foodservice (6.1%), international (16.4%), and miscellaneous (11.9%).
Comparatively, non-CAB beef sales in retail, restaurant and international for the industry will be down this year, O'Diam explained. "These numbers show the value of the CAB brand."
O'Diam also noted, "International, especially, has been a rising star as we've seen access to Japan."
He credited CAB's growth to great partners in retail and foodservice who value the brand and feature promotions to help move increased volumes of CAB product. For the future, CAB will continue to work with partners on their marketing and promotion efforts, as well as working to add more West Coast licensees.
In closing, O'Diam stated, "The beef industry has gotten pricey for product, but we can use more CAB. We can get it sold. Demand for CAB has never been stronger."
Editor's Note: This article was written by staff or under contract for the Angus Journal®, formally known as Angus Productions Inc. (API). It may not be reprinted without the express permission of API. If you would like to reprint or repost this article, request permission by contacting the editor at 816-383-5200; 3201 Frederick Ave., Saint Joseph, MO 64506. API claims copyright to this website as presented. We welcome educational venues and cattlemen to link to this site as a service to their audience.