Tour Stops
FDR Home | Garret Farms | Heathcote Farm | Hyde Park | Norman Rockwell Museum
Rally Farms | Trowbridge Farms | Vanderbilt Mansion | Walbridge Farm
Thursday, August 29

Garret Farms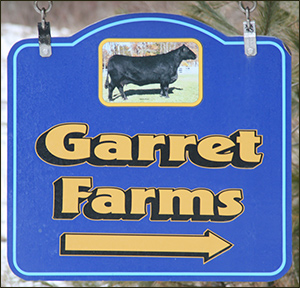 Garret Farms, owned and managed by Garret Matteo, was established in 1976 as a crop farm consisting of about 135 acres. In 1988, commercial Hereford cows were purchased. In 1997, a landmark year, the first purebred Angus came to Garret Farms, and a new breeding program was initiated.

Currently, the herd consists of about 300 brood cows, half commercial and half purebred Angus. The commercial cattle, consisting of mainly black baldies, are marketed locally. The purebred Angus herd has a significant embryo-transfer program, consisting of about 14 donors, including the dam of Traveler 004, the dam of RES Exceed and Volunteer, the dam of On Target, the dam of Neutron 377, the dam of Vermilion Payweight, the dam of BAR EXT Traveler 205, BR Midland's full sister, an Expectation out of GAR Precision 2536, and the list goes on. Females are selected to help their customers move forward with their own breeding programs.

Artificial insemination is used extensively in the herd, as well as some natural service to Garret Farms' herd sires such as Garret's Day Ahead 007, a maternal brother to the popular Traveler 004 sire.

The farm now consists of 10 separate homesteads and totals more than 2,500 acres, mostly located in Hillsdale, N.Y., with four employees. Garret Farms participates in sales nationwide, including an annual production sale; the New York State Angus Female Sale in May; a joint bull sale in May; and many others.
Norman Rockwell Museum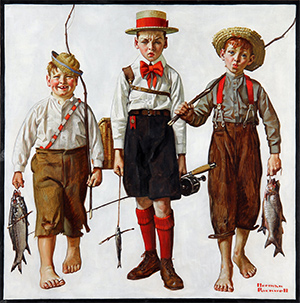 Born in New York City in 1894, Norman Rockwell always wanted to be an artist. His legacy offers a glimpse of small-town American life and the Norman Rockwell Museum presents the world's largest collection of original Rockwell art, including paintings from The Saturday Evening Post and the Four Freedoms, and the best in the field of American illustration. The museum allows visitors to experience Rockwell's art, life and legacy in the artist's picturesque New England hometown of Stockbridge, Mass.

The Norman Rockwell Museum is dedicated to education and art appreciation inspired by the legacy of Norman Rockwell. The museum preserves, studies and communicates with a worldwide audience the life, art and spirit of Norman Rockwell in the field of illustration.
The museum also has Rockwell's last studio for visitors to enjoy. He occupied some 20 studios during his life, but it was the last one that he called his "best studio yet."

The building was originally located in the backyard of his home on South Street in Stockbridge, Mass. In 1976, toward the end of his life, Rockwell left the studio and its contents to the Norman Rockwell Museum. The building was cut in two and moved to the museum's grounds in 1986.

The museum has long presented the studio as it was when Rockwell passed away. Now, it has been reverted to an earlier, active period in his career: October 1960. Visitors can enjoy this special glimpse into Rockwell's surroundings, working process and sources of artistic inspiration.



Trowbridge Farms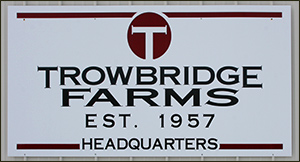 Trowbridge Angus began in Corfu, N.Y., in 1954, when Paul Trowbridge Sr. bought their first Angus cow from Wendland Angus. Philip, the middle son of the nine children, grew up on the family farm, then went to Alfred State College and earned his animal science degree in 1976. Now, more than 30 years later, Phil; his wife, Annie; and their two children, P.J. and Amy, own and operate their own family Angus operation in Ghent, N.Y., in the eastern part of the state. Currently, Phil also serves as the president of the American Angus Association.

Trowbridge Angus remains a showcase of quality purebred livestock, and the family is known for being ahead of the curve with their farming and marketing practices. Quality cattle and progressive genetics, while utilizing genomics to their fullest potential, are priorities for the Trowbridge family. Customer service has been their passion and is top of mind at all times. Realizing the need to help customers sell progeny of their seedstock, Trowbridge Angus has created outlets to help in merchandising, including their annual joint female sale in the fall; the annual Trowbridge Angus Family of Friends Sale of pregnancies and embryos in conjunction with the National Western Stock Show in Denver, Colo.; annual bull sale in May; and the Trowbridge Customer Preconditioned Feeder Calf Sale in December.

Their dedication to youth through internships, 4-H and universities extends an invitation at all times to youth who are interested in agriculture and who want to learn. Trowbridge Angus is, and will always be, a family tradition.



Friday, August 30
Heathcote Farm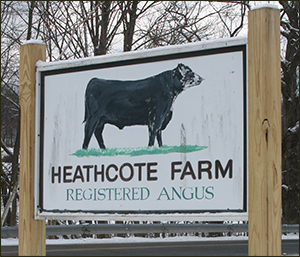 In 1990, John Colgate Jr. started the herd with the purchase of five bred heifers from Jack Blum's Fairfield Farm in Lakeville, Conn. The next year five more were bought, and the Angus addiction had settled. Dave Richmond was hired part-time to help Colgate manage and grow his herd.

In 1994, Richmond came on as full-time farm and estate manager. Genetics were added to the herd through various production sales, private treaty and embryo purchases. The goal was to gradually build the herd to 100 breeding-age females. Cattle were, as they are today, marketed through regional consignment sales and by private treaty.

In the fall of 2007, Colgate decided to consolidate his holdings and sell Heathcote. The Thorne family of nearby Millbrook, which already owned an adjacent farm, added Heathcote Farm and the cow herd to its properties. The Thornes had, years ago, brought some of the first Angus to Dutchess County, N.Y., for their Briarcliff Farm in Pine Plains, N.Y.

Heathcote Farm now manages 100 registered-Angus cows and 20 commercial cows, with the goal of breeding balanced-EPD cattle with pleasing phenotype and functionality. Heathcote Farm markets its cattle through a joint production sale, Cow Power, in September; the annual New York Angus sale in May; and private treaty. Most feeder cattle are sold to the owner of a local farm market, which he feeds to sell in the market, as well as through his freezer-trade business.
Walbridge Farm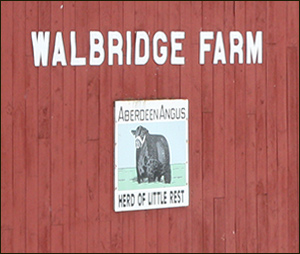 George Perkins started Walbridge Farm around 1950, and it grew into a very successful breeding and showing operation. In the early 1980s, Walbridge Farm was dispersed, but Perkins kept a few cows. In 1994, Doug and Cheryl Giles came to work at Walbridge. After Perkins passed away in 1997, they had the chance to buy the farming operation. The Perkins family still owns the land, and the Giles work with them on a regular basis.

Walbridge Farm tries to keep its 100 registered-Angus cows and 20 commercial-Angus cows on grass from May to Christmas, and it makes its own feedstuffs for winter. Cows are expected to perform like commercial cattle; there are no excuses for poor performance.

The farm is a major host and consignor in the Cow Power sale in September, and it participates in the New York Angus sale. In addition to private-treaty sales, Walbridge Farm has a small farm store, Walbridge Farm Market, to directly market its beef. The market, on the farm property, is open from Thursday to Sunday.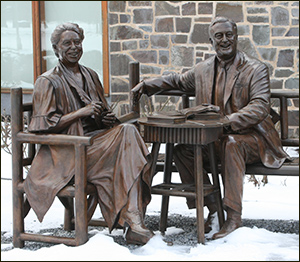 Home of Franklin D. Roosevelt
Hyde Park — FDR Home & Vanderbilt Mansion

The home of Franklin D. Roosevelt National Historic Site contains "Springwood," the lifelong home of America's only four-term president. Also on the site is the Presidential Library and Museum, operated by the National Archives. Visitors may enjoy a guided tour of FDR's home or a self-guided tour of the Museum, and stroll the grounds, gardens and trails of this 300-acre site. The Franklin D. Roosevelt Presidential Library and Museum is America's first presidential library — and the only one used by a sitting president. It was conceived and built under Roosevelt's direction and opened to the public in 1941.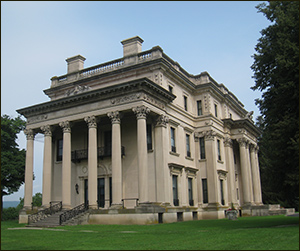 Vanderbilt Mansion
The Vanderbilt Mansion National Historic Site was established as a monument to an era rather than a tribute to any one person or family. The estate illustrates a way of life modeled on the English country house and is only unusual today because so few examples survive in the 21st century. More than a place to discuss the lifestyles of the rich and famous, the park offers a window into the philosophy of the American country house, the lives of its domestic staff and its relationship to the surrounding community. In addition to a tour of the house, you can explore the 211 acres of parkland that boast centuries-old tree plantings, stunning views of the Hudson River and Catskill Mountains, and Italian Gardens maintained by the volunteers of the Frederick William Vanderbilt Garden Association.
Rally Farms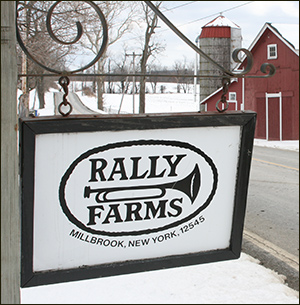 When the late Frederick Bontecou purchased a 365-acre farm in 1926, he decided to build his herd with foundation cattle from Briarcliff Farms in 1929. Now, the farm has grown to 2,400 acres and has about 105 registered-Angus cattle, under owner Jesse Bontecou, herd manager Chris Howard, crop foreman Tom Dahoney, and staff members Chris Hawks, Jerry Brown, Marva Dahoney and Benadette Dooney.

Rally Farms has enjoyed national recognition for a good share of its 83-year existence. Show herds were campaigned nationally and successfully. Females were selected from sales across the country. It has exhibited and sold champion pens of bulls at the National Western Stock Show in Denver, Colo. By advertising in national and state publications, and through the power of word of mouth, Rally Farms production sales have drawn breeders from all corners of the nation.

Rally Farms has been named regional winner in the National Cattlemen's Beef Association Environmental Stewardship Award Program. It has also been honored for soil and water conservation.
---