Marketing Angus Genetics
American Angus Association director of public relations offers marketing advice.
ALBANY, N.Y. (Aug. 28, 2013) — The key to successful marketing is to balance traditional print media and digital media, said Eric Grant, speaking to more than 220 participants at the National Angus Conference & Tour in Albany, N.Y., Aug. 28-30. This balance will help you keep your current customers and gain new ones.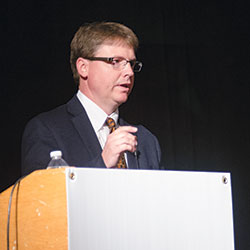 The key to successful marketing is to balance traditional print media and digital media, said Eric Grant, director of public relations and communications for the Association.
We are in an age of disruption, he said. Digital is changing everything about marketing by decreasing print avenues, yet expanding capabilities and reach for those willing to adapt. As a freelancer, two of his magazines stopped print or diminished drastically. However, digital media can give instant feedback, like knowing exactly how many hits you have on YouTube. The pace of change accelerates, and today's new technology will be tomorrow's old technology, he noted.
While the marketing platforms are different by generations, he shared some advice from his grandpa, like don't hit the snooze button because someone else will be up and at 'em while you snooze. Invest some time each day to think about how to market your cattle. Contrarian thinking can be beneficial and set you apart. Finally, fail forward. It is ok to fail, as long as you use the experience to learn and move forward.
Grant offered his tactics for both the digital and print platforms.
His advice for the digital age:
Hire a young person; they are more comfortable with technology.
Capture, store and maintain customer information, including information from your interactions.
"Put some hay in the barn." Photos, words and video are the currency of marketing and advertising, so document your ranch's story. You can't use it if you don't have it.
Develop a social media presence, but don't do it unless you are committed. Make your Facebook and Twitter accounts about your customer, not you.
Be smartphone-friendly. Have your phone number, email and physical address be clickable so customers can contact you easily.
Build a simple website with current content.
Launch a YouTube Channel for individual cattle videos that are no longer than 20-30 seconds.
Email this around, like links to your video. Keep your customers engaged.
Measure what you do. Digital gives good feedback.
His advice for print:
Contrarian thinking helps. Write handwritten letters because they get noticed. Go see people, especially those on the fence about doing business with you.

Build color into your brand.
Recognize that the sale cycle on an individual animal starts at breeding.
Words matter, so you must have a narrative of what you do.
Teach. The most successful seedstock breeders are teachers.
Timeliness is imperative. You should capitalize on the interest within three days.
Editor's Note: This article was written by staff or under contract for the Angus Journal®, formally known as Angus Productions Inc. (API). It may not be reprinted without the express permission of API. If you would like to reprint or repost this article, request permission by contacting the editor at 816-383-5200; 3201 Frederick Ave., Saint Joseph, MO 64506. API claims copyright to this website as presented. We welcome educational venues and cattlemen to link to this site as a service to their audience.