Marketing the End Product
Fifth-generation food marketer
ALBANY, N.Y. (Aug. 28, 2013) — "I carry my CAB (Certified Angus Beef®) card with me every day, because I believe in it," said food distributor Dwight "Kip" Palmer as he addressed attendees at the National Angus Conference & Tour Aug. 28 in Albany, N.Y. The annual event was Aug. 28-30 and included speaker presentations, as well as tours of several New York Angus farms.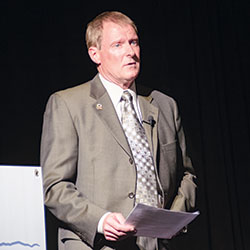 "At our volume, we can buy CAB for less than small CAB-licensed operators could buy it from the packer," Palmer explained. His companies then "redistribute" it to smaller CAB-licensed retailers and distributors so it is widely available.
Palmer provided the audience a glimpse of his family's 163-year evolution in the food business, which his great-great grandfather initially started by selling fresh fish as a retailer in 1850 in Rochester, N.Y. Palmer is now the fifth generation carrying forward the family's food business, which today he describes as a broadline foodservice distributor and redistributor with special focus on refrigerated and frozen proteins, including CAB.
Palmer currently serves as the CEO of the Palmer Family of Companies, which includes Palmer Food Services and G&C Food Distributors, which is located in Syracuse, N.Y. He has a 26-year-old daughter — the sixth generation — working with him in the business. Palmer also presently serves on the board of Certified Angus Beef LLC.
He explained that as a broadline distributor his company offers 8,000 active items — from desserts to coffee. However, they particularly bill themselves as a "protein" specialist and are proud to offer CAB. They buy 2 million pounds of boxed beef a week and also have an in-house meat department that is able to cut meat to the client's specifications. They serve 1,000 active clients, located primarily in central and western New York.
Palmer said the key to their success in the meat business has been the ability to buy in large quantities and then sell to retailers and smaller distributors. He points out that this is one way they have helped create demand for CAB.
"At our volume, we can buy CAB for less than small CAB-licensed operators could buy it from the packer," Palmer explained. His companies then "redistribute" it to smaller CAB-licensed retailers and distributors so it is widely available.
To further help promote CAB, Palmer Food Services spends $250,000 for an annual Savor Local Restaurants TV and web advertising campaign, which promotes vendors who offer CAB products.
Additionally, Palmer is dedicated to educating its sales force about the CAB product. Five Palmer sales representatives have attended and passed the Masters of Brand Awareness Program offered by CAB. Palmer called the program "phenomenal" and said, "We want to send every salesperson we have to this program. It makes evangelists for the [CAB] brand."
For the sales force, Palmer also utilizes center-of-the-plate "talking sheets," which feature different weekly products, including CAB. As well, Palmer sales associates have CAB stickers on their laptop, so it's the first thing a client sees as they work on their order with their sales representative.
Additional CAB promotion efforts include CAB signage in the Palmer retail store, CAB decals on all of their delivery trucks, CAB articles in Palmer's customer and internal newsletters, and CAB product information featured on their wholesale and retail websites.
Another unique approach Palmer Foods offers is a custom grinds option for customers to create their own signature ground beef blend for burgers. Palrmer said, "We want to use CAB as the cornerstone of their high-end ingredient profile.
Palmer concluded, "We continue to educate clients on the features and benefits of using CAB products to help enhance their menus." Toward this effort, Palmer specialists engage clients in personal meat cuttings and comparisons, walking tours of their meat fabrication facility and frequent trips to the CAB Education & Culinary Center in Wooster, Ohio.
Palmer noted that he himself has now been in the food business for 46 years. He shared that his philosophy is we exist "to make this world a better place," noting that it is essentially the golden rule of treating others the way we want to be treated.
"We — all of us in this room — serve others by providing, supplying superior product in this continuum of conception to consumption," he said. He credited the American Angus Association and CAB for being progressive organizations and noted, "I am very honored to be associated with you."
Editor's Note: This article was written by staff or under contract for the Angus Journal®, formally known as Angus Productions Inc. (API). It may not be reprinted without the express permission of API. If you would like to reprint or repost this article, request permission by contacting the editor at 816-383-5200; 3201 Frederick Ave., Saint Joseph, MO 64506. API claims copyright to this website as presented. We welcome educational venues and cattlemen to link to this site as a service to their audience.